The global sugar processing market was valued at 166 million MT in 2020 and it is expected to grow at a CAGR of ~2% from 2021 to 2027 to cross 200 million MT in terms of volume in 2027. The growth of the market is majorly driven by the high demand generated from the food and beverages industry.
Sugar Processing Industry Procurement Intelligence
Brazil has been the leading sugarcane producer globally for the last two decades. However, since the beginning of 2019, sugarcane production in the country has decreased by approximately 5%. This can be attributed to the unfavorably dry weather and high incidence of fire outbreaks in the fields. In addition, steady grain prices have encouraged the shift of marginal sugarcane areas to soybeans and corn. This sugar production trend continued due to Covid-19 in 2020. All these issues with sugar production in Brazil help India to reduce the production gap with Brazil, capturing several markets that were previously dominated by Brazil. For instance, Indonesia used to import more than 90% of its sugar from Brazil. However, the country shifted its sourcing destination from Brazil to India due to the pandemic.
The Indian government has taken numerous initiatives to improve sugarcane production in the country. For instance, the government has announced an incentive for sugar mills in the form of an additional domestic sales quota to those that export sugar and divert the commodity toward ethanol making in the new 2021-22 season starting October. The government has also urged sugar mills to take advantage of firm global sugar prices and plan the export of raw sugar during this new season (October-September). Moreover, the Indian government is planning to invest approximately USD 5 billion over the next few years to increase ethanol production by 80%.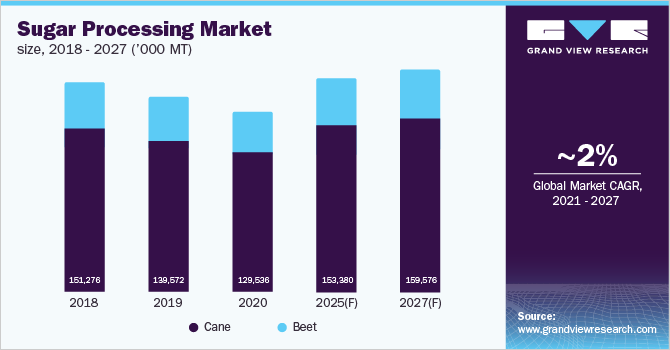 Sugar Processing Category Intelligence Highlights:
The growing demand of sugar from food and beverages industry is driving the growth of sugar processing.
The global sugar processing market is moderately fragmented & competitive with strategic partnerships between several large market players and small regional sugarcane suppliers to get higher profit margins.
Feedstock (Sugarcane) cost is the most important cost component of sugar processing. It accounts for more than 40% of the overall processing cost.
Countries like Brazil, India, and Thailand, being the largest producers of sugarcane in the world, are turning out to be the preferred sourcing destinations for sugar processing.
Sugar processing suppliers are collaborating with small and regional sugarcane suppliers to increase their profit margins.
The sugar processing market has a fragmented competitive landscape and is witnessing the entry of several small regional players.
Suppliers largely prefer approved provider operating models to reduce risks and improve the potential for value creation.
Grab your copy, or request for a free sample of the "Sugar Processing Industry Procurement Intelligence Report, published by Grand View Research" for In-depth details regarding supplier ranking and selection, sourcing, and pricing criteria & strategies
Cost Intelligence Highlights:
Grand View Research has identified the following key cost components for Sugar Processing:
Feedstock
Other chemicals
Washing
Crushing
Purification
Crystallization
Centrifugation
Packaging
Labor
Utilities
SG&A
Tax
Profit 
Feedstock is the major cost component of Sugar Processing, accounting for more than 45% of the total cost of sugar production.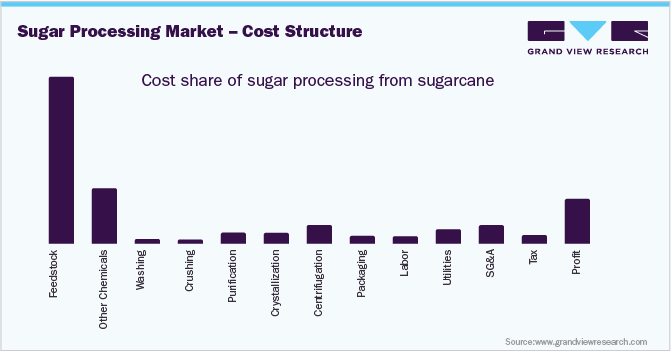 Sugar Processing Industry – Supplier Intelligence – Capability based ranking & selection criteria with weightage:
Operational Capabilities - Weightage
Years in Service (15%)
Geographical Service Presence (35%)
Employee Strength (15%)
Revenue Generated (15%)
Key Clients (12%)
Certifications (8%)
Functional Capabilities - Weightage
By Type
Liquid Sugar (20%)
Brown Sugar (20%)
White Sugar (20%)
By Source
Sugarcane (20%)
Sugar Beet (20%)
List of Key Suppliers in the Sugar Processing Category:
Cosan
Mitr Phol Sugar Corporation
Nordzucker AG
Suedzucker AG
Tereos
Biosev
Thai Roong Ruang Group
Wilmar International Limited
Savola Group Company
Cofco Tunhe Sugar Co. Ltd.
Add-on Services provided by Grand View Research Pipeline:
Should Cost Analysis
Component wise cost break down for better negotiation for the client, highlights the key cost drivers in the market with future price fluctuation for different materials (e.g.: steel, aluminum, etc.) used in the production process.
In the sugar processing category intelligence study, we have estimated the pricing for the key cost components. Feedstock costs are the largest cost component of sugar processing. They account for more than 45% of the overall sugar processing cost. Sugarcane and sugar beet are the main feedstock used for sugar processing. Sugarcane is highly preferred globally owing to its easy availability and low processing cost. Meanwhile, Brazil is the largest sugarcane producer. Hence, sugarcane price fluctuations in Brazil play an important role in determining the sugar processing costs. Sugar production in Brazil witnessed a decline in 2020 due to the outbreak of the COVID-19 pandemic and drier weather conditions. This also resulted in a steep increase in price in 2021. The price is likely to decline in 2022 and increase steadily until 2025.
Rate Benchmarking
Offering cost transparency for different products / services procured by the client. A typical report involves 2-3 case scenarios helping clients to select the best suited engagement with the supplier.
The type of feedstock is one of the most important aspects while analyzing rate benchmarking of sugar processing. In our research, we have analyzed the weight and price of sugarcane and sugar beet to produce 1 kg of sugar. We found that using sugarcane instead of sugar beet is 50% more cost-efficient. However, the volume of sugar beet required to process 1kg sugar is 38% less than sugarcane.
To gain a comprehensive understanding of other aspects of rate benchmarking, please subscribe to our services for the complete report.
Salary Benchmarking
Determining and forecasting salaries for specific skill set labor to make decision on outsourcing vs in-house.
As per our research, operations managers at Nordzucker and Sudzucker earn approximately 20% higher salaries than operations managers working in other leading companies, such as Cosan and Biosev. However, the YoY increment rate in such companies largely depends on the KRAs.
Supplier Newsletter
A typical newsletter study by capturing latest information for specific suppliers related to: M&As, technological innovations, expansion, litigations, bankruptcy etc.
The continuous tracking of developments in the supplier landscape can be a cumbersome task. Our newsletter service helps organizations to stay abreast with the latest developments and innovations, enabling them to avoid disruptions in the supply chain. Outsourcing such activities enables clients to focus on their core offerings.
Brief about Pipeline by Grand View Research:
A smart and effective supply chain is essential for growth in any organization. Pipeline division at Grand View Research provides detailed insights on every aspect of supply chain which helps in efficient procurement decisions.
Our services include (not limited to):
Market Intelligence involving – market size and forecast, growth factors, and driving trends
Price and Cost Intelligence – pricing models adopted for the category, total cost of ownerships
Supplier Intelligence – rich insight on supplier landscape, and identifies suppliers who are dominating, emerging, lounging, and specializing
Sourcing / Procurement Intelligence – best practices followed in the industry, identifying standard KPIs and SLAs, peer analysis, negotiation strategies to be utilized with the suppliers, and best suited countries for sourcing to minimize supply chain disruptions
Browse through Grand View Research's collection of procurement intelligence studies:
Contract Research Organization Market Procurement Intelligence - The global CRO market is expected to witness sustainable growth (CAGR of 6.4%) from 2020 to 2025 due to the increasing global need for drug development and investments by pharma giants in R&D, owing to the patent expiration of blockbuster drugs.
Vitamins and Dietary Supplements Market Procurement Intelligence – The global vitamin and dietary supplements market is expected to exhibit a CAGR of 4.9% from 2020 to 2025 with capsules and tablets being the most consumable dosage form of supplements. Powder is expected to emerge as the fastest-growing dosage form from 2020 to 2025 with a projected CAGR of 6.4% from 2020 to 2025.
Media Contact
Company Name: Grand View Research, Inc.
Contact Person: Sherry James, Corporate Sales Specialist - U.S.A.
Email: Send Email
Phone: 1888202951
Address:Grand View Research, Inc. 201 Spear Street 1100 San Francisco, CA 94105, United States
City: San Francisco
State: California
Country: United States
Website: https://www.grandviewresearch.com/pipeline/sugar-processing-market-procurement-intelligence-report