With authentic advice and ground breaking strategies, Tony Jeton Selimi's, A Path to Excellence is an illuminating blueprint for self-mastery that invites readers on a journey inward to clarify their vision, develop unshakeable confidence and achieve the life of their dreams. This one-on-one interview shares the author's background and experience in writing the book.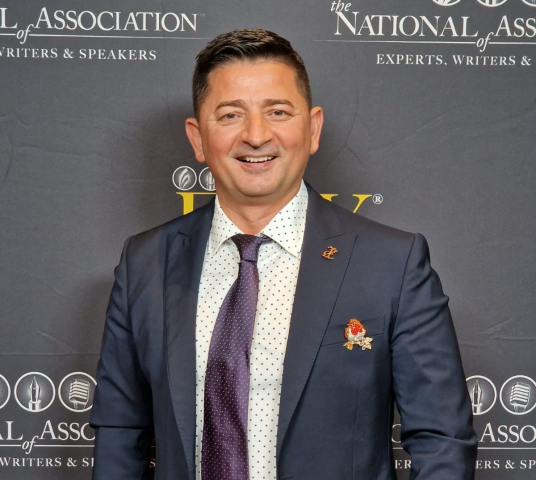 What inspired you to write A Path to Excellence?
Being told you are not good enough because of your creed, nationality, religion, sexuality, gender, and other unjust biases and then finding out that you are, awakens you into a world full of dreams, joy, and fulfillment. I wrote A Path to Excellence because millions, if not billions, of people accept mediocrity as a way of living without questioning what stops them from reaching their most excellent potential today and every day.
In the book, you focus on a new framework called The Octagon Of Excellence™ . Can you explain this?
You are the only one who can decide how much you want to enhance your mental, emotional, spiritual, family, relationship, social, career/business, and financial performance. This alone puts you in a position to direct the course of your life and excel. With The Octagon Of Excellence™, I outline the eight essential elements of human excellence and how to apply them consistently and continuously to overcome frustrations, obstacles, and pains to climb greater heights. In a nutshell, this book is a blueprint to break barriers you'll encounter going through the ever-evolving life cycles and improve yourself in every aspect of life.
How did your background and upbringing impact who you are today?
I've had the vision to empower, heal and positively impact the lives of others since I was seven years old. I was born in 1969 in Gostivar, a city in the Republic of Northern Macedonia. Early in life, I experienced abuse, bullying, illness, inequality, and injustice because I was of a different creed from what the perceived societal norms were. I've lived through a civil war and homelessness, but I never chose to be a victim. I invested in my education and graduated with honors from one of the top five UK universities. I used the 2008 financial crisis to venture into entrepreneurship, become a qualified transformational life and business coach, learn CBT, and various healing modalities. Since then, I've written four award-winning books, become an internationally recognized TEDx speaker, delivered over 25,000 coaching and training hours, and become a self-made millionaire.
You have pioneered several trademarked methodologies in human development including the TJS Method: ALARM™®, Behavioural Change Principles®, The Unfakeable Code® Principles and now The Octagon Of Excellence™. What makes these methods stand out compared to other self-development frameworks?
I felt compelled to share proven strategies and principles I've used to succeed and teach others to do the same. In 2015, I founded TJS Cognition Ltd, a company dedicated to exploring, expanding, and evolving the frontiers of human awareness and potential.
Through my frameworks, I teach people how to transform their disempowering thought patterns and beliefs into life breakthroughs that empower them to become a master of their life and destiny. Entrepreneurs, CEOs, global leaders, Hollywood A-list celebrities, and people from all professions consult with me to unleash their magnificence, excel in all critical areas of life, and grow to their fullest potential. Organizations seek my expertise to engage, develop and empower their leaders and teams, thus improving efficiency, productivity, performance, profits, and the overall organizational and business culture and wellbeing.
Purchasing the Book
A must-read for anyone who dreams of creating a rewarding and meaningful personal, professional, and business life, A Path to Excellence is available for sale on Amazon, Barnes & Noble, Apple iBooks, Kobo, Nook, Google Play and other online bookstores.
Readers who are ready to begin their path to self-mastery are encouraged to purchase their copy today: https://www.amazon.com/gp/product/B0BG4LYXZB/
About the Author
Like a phoenix rising from the ashes, Tony J. Selimi went from being ill, bullied, surviving a civil war, and living homeless on the streets of London to graduating from one of the top engineering universities in the UK, successfully climbing the corporate ladder, and becoming an internationally recognized TEDx speaker, #1 best-selling and Multi-Award-Winning author of several books, filmmaker, and one of the world's leading authorities on human behavior, the psychology of excellence, and purposeful living. He travels the world assisting people from all professions and businesses from all market sectors engaged in high-stress performance, productivity, and purpose missions. He co-created the 'Living My Illusion – The Truth Hurts award-winning life coaching documentary, created the Into Your Divinity Documentary Series and pioneered several trademarked methodologies in human development. He has received several awards and has been featured on SKY, ABC, NBC, CBS, and FOX. To learn more, please visit: https://tonyselimi.com
Connect with Tony Jeton Selimi on Social Media
https://www.instagram.com/tonyjselimi/
https://twitter.com/TonyJSelimi
https://www.linkedin.com/in/tonyjselimi/
Media Contact
Company Name: Author News Network
Contact Person: Media Relations
Email: Send Email
Country: United States
Website: authornewsnetwork.com