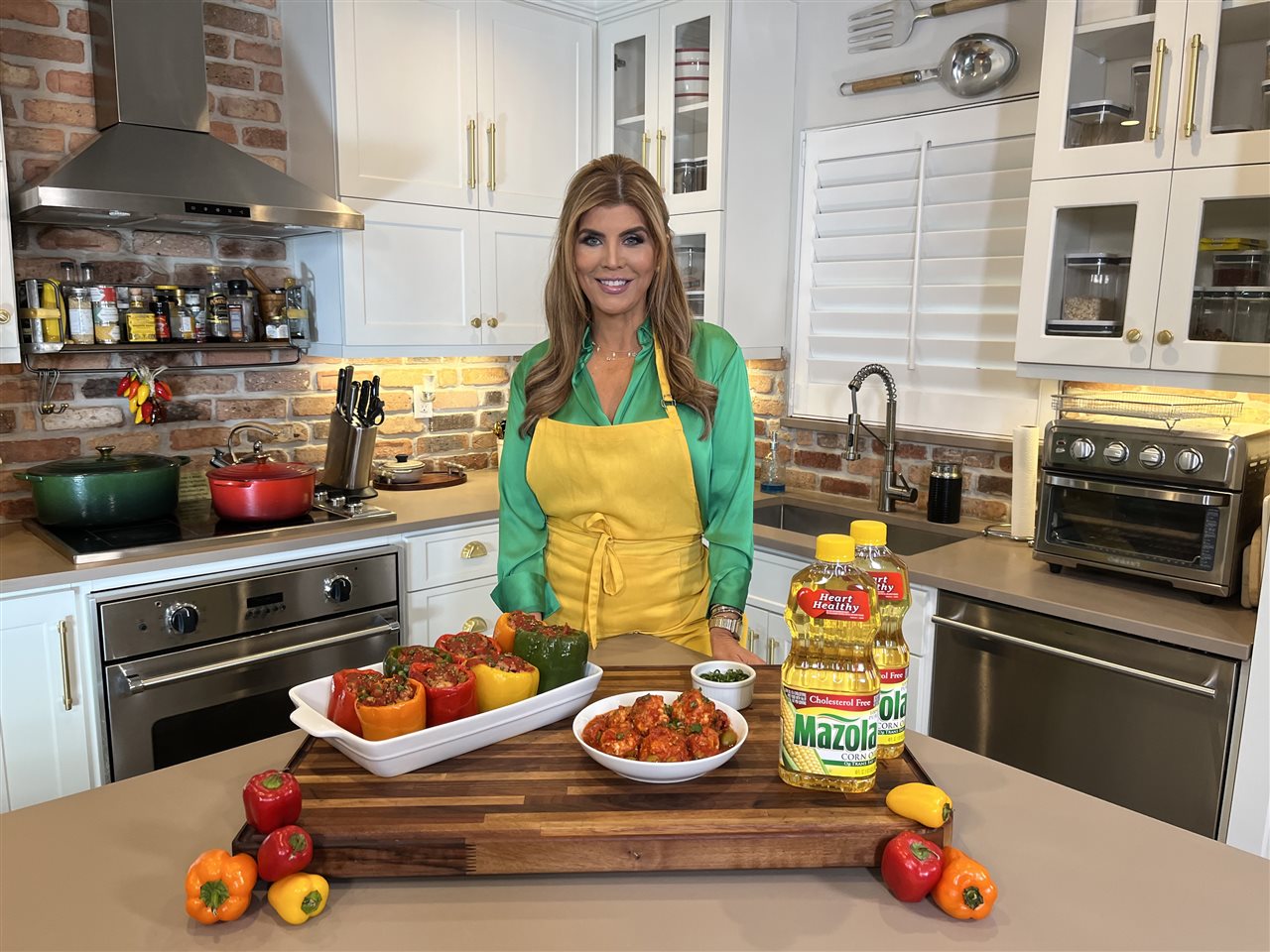 (BPT) - When cooking for your family, do you consider the beneficial value of the ingredients you use? This February, as part of National Heart Health Month, prioritize your heart by making simple changes!
According to the American Heart Association, more than half of Hispanic men and almost 43% of Hispanic women have some form of cardiovascular disease. While there are many factors for developing heart disease, one of the areas you can control to reduce the risk is your diet. Chef, TV personality and entrepreneur Ana Quincoces shares her views on the importance of maintaining a healthy lifestyle.
"After my mother's heart attacks, heart health has been a top priority in my family," says Quincoces. "Prioritizing heart health is easier than you think! One of the many reasons I prefer to use corn oil, like Mazola® Corn Oil, is because it helps me maintain stable cholesterol levels for myself and my loved ones! In fact, even a 1% reduction in bad (LDL) cholesterol has been found to reduce the risk of heart disease by 2 to 3%*. The Journal of Clinical Lipidology has published a study that found that corn oil, like heart-healthy** Mazola®, can help lower cholesterol 2x more than extra-virgin olive oil***!"
Hispanic foods sometimes get a bad reputation for being unhealthy, but it's ultimately dependent on how you go about creating these dishes. With just some simple ingredient substitutions, you can transform traditional family recipes into delicious meals that could help you keep your family's heart healthy.
In honor of Heart Health Month, Mazola® Corn Oil and Celebrity Chef Ana Quincoces are sharing some recipe variations on delicious Hispanic dishes your family can eat this month and beyond.
Check out this delicious and easy Stuffed Peppers recipe that uses leaner meats, plenty of vegetables and Mazola® Corn Oil, a cholesterol-free**** choice for your family.
Stuffed Peppers with Ground Turkey, Brown Rice, Raisins and Almonds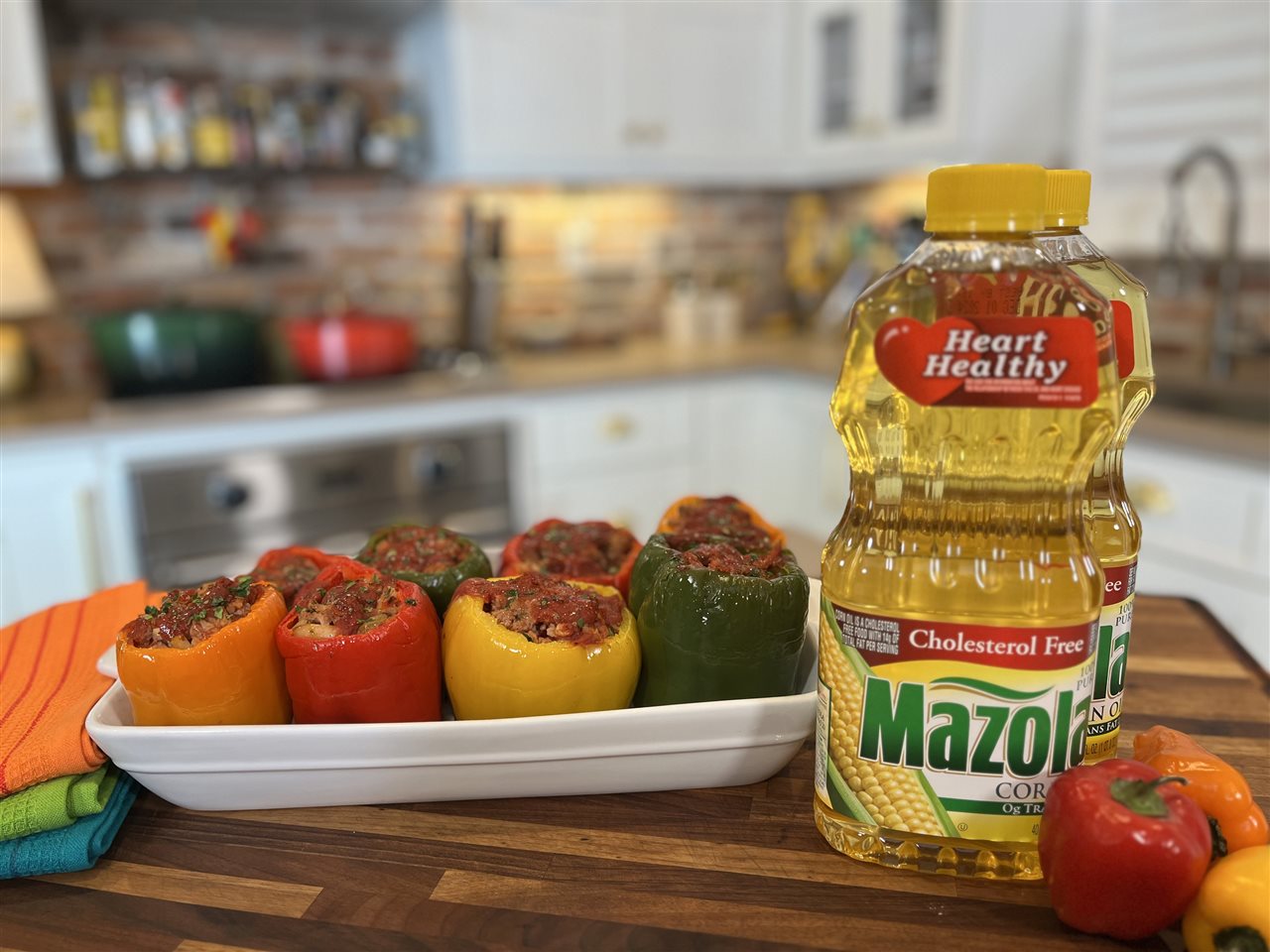 Prep time: 25 min
Cook time: 25-30 min
Servings: 4-6
Ingredients:
1 pound lean ground turkey
1/4 pound lean ground deli ham
3 tablespoons of Mazola® Corn Oil, divided
1 cup of white or brown rice, cooked
6 large bell peppers (any color)
3/4 cup of onion, diced
3 teaspoons of garlic, minced
1 cup of cooked white rice
1 teaspoon of salt
14 ounces canned diced tomatoes
4 ounces of tomato sauce, divided
1/4 cup of golden raisins
1/4 cup of toasted slivered almonds
1 teaspoon of salt to taste
1/2 teaspoon of freshly ground black pepper
1/2 teaspoon of smoked paprika
1/2 teaspoon of dried leaf oregano
Chopped cilantro for garnish
Instructions:
Preheat oven to 350°F
Bring a large pot of water to a boil
Cut the tops off your peppers and set aside. Carefully pull out the seeds and membranes, creating a cavity inside
Dip the peppers into the boiling water, letting them cook for just 1 1/2 to 2 minutes, and drain on a paper towel
Meanwhile, sauté the onion and garlic in 2 tablespoons of Mazola® Corn Oil in a skillet for 5 to 7 minutes until translucent
Toss in the cooked rice, half of the tomato sauce, diced tomatoes, raisins, toasted almonds, seasonings, salt and pepper
Stir to combine and cook until just heated through
Lubricate a casserole dish by using a paper towel and the remaining tablespoon of Mazola® Corn Oil to prevent sticking
Place the peppers in the casserole dish and spoon the meat and vegetable mixture into each of the prepared peppers
Top each pepper with about a tablespoon of the tomato sauce
Sprinkle with a little oregano and chopped cilantro, and cover the dish with foil
Bake for 10 minutes, remove foil and continue baking for an additional 10 minutes
Carefully remove from oven, let cool and enjoy!
Heart health is often a problem within the Hispanic community, but you can make more conscious decisions about your family's health one recipe and meal at a time. To view this recipe (and others), find more inspiration, and learn more about how you can incorporate heart-healthy* Mazola® Corn Oil into recipes this Heart Health Month and beyond, visit Mazola.com.
*Studies show that, when consumed as part of a diet low in saturated fat and cholesterol, plant sterols can help reduce the absorption of cholesterol in the gut, which can lower LDL blood cholesterol. USDA and USDHHS 2010; FDA 2000, 2010; Wu et al. 2009; Demonty et al. 2008, Ellegard et al. 2008; Mensink et al. 2010. To achieve cholesterol reduction, one serving of corn oil must be part of a healthy diet and replace a similar amount of butter or other higher saturated fat oils. For more information, see Mazola.com.
**Very limited and preliminary scientific evidence suggests that eating about 1 tablespoon (16 grams) of Corn Oil daily may reduce the risk of heart disease due to the unsaturated fat content in Corn Oil. FDA concludes that there is little scientific evidence supporting this claim. To achieve this possible benefit, Corn Oil is to replace a similar amount of saturated fat and not increase the total number of calories you eat in a day. One serving of this product contains 14 grams of Corn Oil.
***Maki K, Lawless A, Kelley K, Kaden V, Geiger C, Dicklin M. Corn oil improves the plasma lipoprotein lipid profile compared with extra-virgin olive oil consumption in men and women with elevated cholesterol; results from a randomized feeding trial. J Clin Lipidol. Article in press. Accessed December 10, 2014. Study sponsored in part by ACH Food Companies, Inc.
****Corn oil is a cholesterol-free food that contains 14g of total fat per serving. See nutrition information on product label or at Mazola.com for fat and saturated fat content.