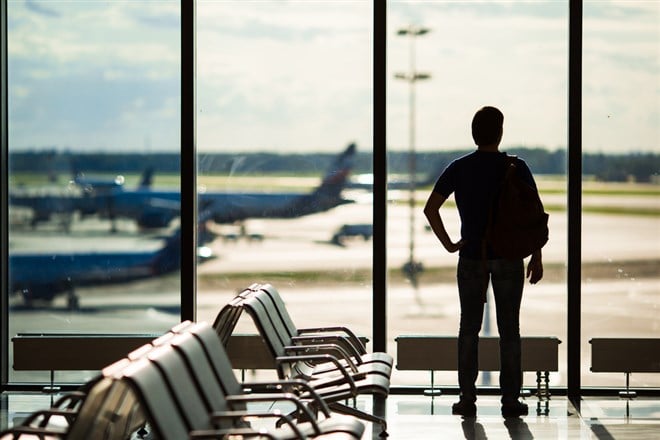 Airline stocks started the year very strong, driven by exceptional travel demand. Most airlines were showing profits again as the rebound in travel had come around full circle. Despite high inflation and economic uncertainty, consumers were still ready and willing to spend money on travel and leisure experiences. This positive sentiment abruptly stopped in March 2022 when a primary airline carrier reversed its earnings guidance for profit estimates into the red.
This caused travel stocks from airlines stocks, hotels, and cruise lines to sell off immediately, causing investors to wonder if the travel boom had already ended.
The Bombshell 
On March 13, 2023, United Airlines Holdings Inc. (NYSE: UAL) dropped a bombshell on investors. The company cut its Q1 2023 guidance dramatically, citing higher labor costs, rising fuel costs, and an unexpected demand drop during non-peak hours. It also cited weaker demand during the January and February "weaker months,", especially during non-prime hours. The company decided to accrue expenses in Q1 2023 rather than Q2 2023 related to a potentially new collective bargaining deal with the Air Line Pilots Association. Adding the accrual in Q1 2023 will impact the cost per available seat mile (CASM) to be flat to up 1%.
The United Airlines Guidance Cut
United Airlines lowered its EPS guidance for Q1 2023 to a loss of ($1.00) to ($0.60) versus a profit of $0.66, consensus analyst estimates. However, the company expects total operating revenues to grow 51% YoY, which is higher than the 50% growth earlier projected. The higher capacity and operational reliability are driving higher revenues.
The capacity for Q1 2023 is expected to be 23% higher than Q1 2022. United Airlines expect total revenue per seat mile (TRASM) to rise 22% to 23% YoY, down from its previous 25% estimate. However, the company expects Q2 2023 outlook to improve, with total operating revenues up mid-teens YoY. The company reaffirms its full-year 2023 EPS of $10.00 to $12.00 versus $8.60 consensus analyst estimates.
One-Time Pilot Association Charge for Delta
Delta Air Lines Inc. (NYSE: DAL) reaffirmed its Q1 2023 outlook. It expects Q1 2023 total revenues to grow 14% or between $11.8 billion and $12.1 billion. It expected Q1 2023 EPS between $0.15 to $0.40 versus $0.33 consensus analyst estimates. Like United Airlines, Delta expects to take a one-time pilot pact charge of $800 million in connection to its four-year ratified deal with the Air Line Pilots Association (ALPA) on March 1, 2023.
The new working agreement includes improvements to benefits and vacations and a 34% pay raise over the contract's life for its 15,000 pilots.
Alaska Air Margin Cut
On March 13, 2023, Alaska Air Group Inc. (NYSE: ALK) cut its Q1 2023 margin due to higher fuel costs. The fuel costs forecast was lifted from $3.35 to $3.45, up from $3.15 to $3.35. It expects an adjusted pre-tax margin between (6%) to (3%) versus (4%) to (1%) previous estimates. Alaska Air will take a one-time charge of $50 million to $55 million for a new letter of agreement with the pilots union, notably increasing the pilot sick leave portion balances eligible for retirement cashouts.
Alaska Air kept its other guidance the same, including 29% to 32% revenue growth, 11% to 14% capacity growth, and 0% to (2%) for the cost per available seat mile excluding fuel (CASMex) forecast.
One-Time Event or Sign of Slowdown?
The running theme has been the additional one-time charge under new labor agreements with pilot unions. The airlines opt to get the expense out of the way and take charge in Q1 rather than later in the year. Rising fuel costs are also consistent with rising airline expenses, impacting CASM. Travel demand hasn't fallen off a cliff. Despite United Airlines citing weaker January and February travel demand, it still expects Q1 2023 revenues to jump 51% YoY.
TD Cowen Cites Weakness Creeping In
The verdict is still out as to if the good times are over for the airlines since the catalyst for guidance cuts centers on new pilot contracts negotiated with the unions at a one-time charge. Meanwhile, the headlines caused airlines to take a brutal sell-off despite the overall market rally. TD Cowen cited a decline in total average fares (3%) YoY and by more than (7%), week-to-week at the beginning of March 2023 as passenger traffic remained flat with March 2019. Cowen also points out that January 2023 cargo volume fell (14.9%) and 15,3% in December 2022.
Weekly Rounding Bottom Cup on UAL
The weekly candlestick chart on UAL illustrates a typical pattern these days of a rounding bottom completing a cup. However, the deep sell-off on UAL's Q1 2023 guidance cut prevented the breakout through the cup lip line and instead started to form its handle. The weekly cup lip line formed after peaking at $53.12 on April 2022 as shares steadily sold off to a low of around $31.80 in October 2022. UAL staged a rally back up on the weekly market structure low (MSL) breakout through $42.28 to retest the cup lip line at $53.12 in January 2023.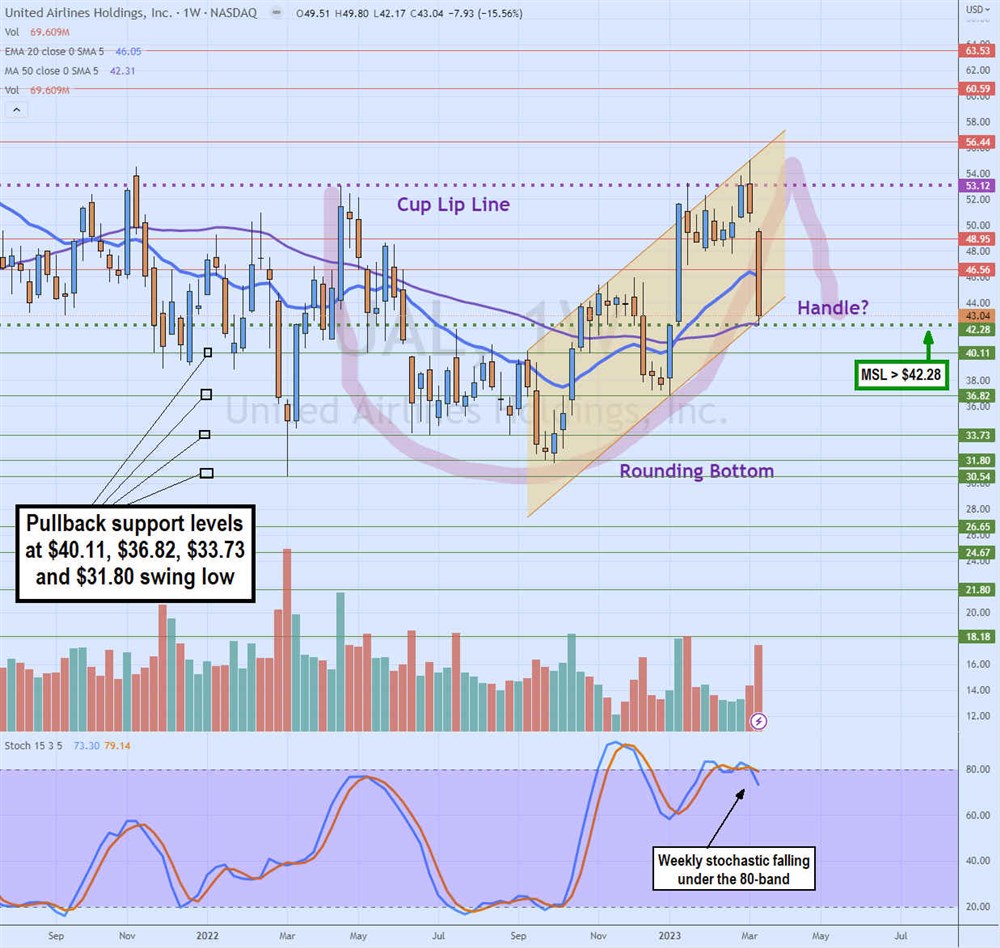 UAL attempted a second breakout attempt at the beginning of March 2023 but collapsed back down to the weekly MSL trigger and weekly 50-period moving average (MA) support around $42.28. This could be the start of a breakdown or a pullback representing the handle formation before a breakout through the lip line completing the cup and handle breakout.
The weekly stochastic has been chopping at the 80-band but is starting to descend. Pullback support levels are at $40.11, $36.82, $33.73, and $31.80 swing low.