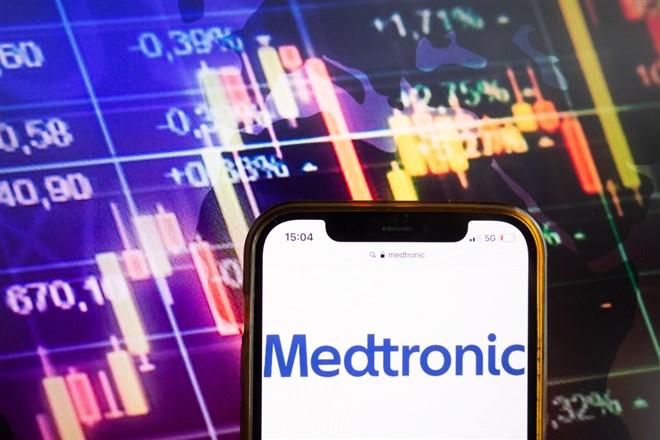 Gastroenterology AI biotech Medtronic (NYSE: MDT) has maintained a HOLD rating since Sept 1, 2022, but a focused strategy could change that very soon. The company has recently revealed a plan to trim some personnel that should, first of all, cut some expenses. In addition, Medtronic will partner with Nvidia (NASDAQ: NVDA) to develop new AI diagnostic tools that should improve its standing in the industry. 
This combination could help MDT make up the ground it lost this past year. After all, the stock had a Moderate Buy rating only one year ago, with a consensus price target of $129.20. That is nearly a 40% premium over the current price target ($90.72). And while that may seem dramatic, the 52-week high is only $81.31. So while sentiment about the stock has changed, its price has not suffered so thorough a downgrade. 
Indeed, the current share value is $79.64, barely holding above the 52-week low ($79.58). Yes, the stock is down 4.50% in the month of March–and down more than 26.5% since the same time last year–but it seems to have rebounded roughly 2.5% since the beginning of 2023. This is surely a sign of growth that should promote confidence in future momentum. 
The good news is that while the stock has dropped off significantly from its historical high ($133.43 on 9/9/2021), MDT's current value is still a significant distance from the historical low. Fortunately, the historical occurred just after the stock's IPO, holding around $45-$47 between March and May 2013. 
Small Staff Cuts Are Expected 
In an effort to put more focus on high-priority projects, Medtronic has revealed a plan to make small cuts to its staff. Within the first few months of this year, Medtronic subtly combined its surgical operating teams–innovations and robotics–into a single "surgical unit." The team will be led by Mike Marinaro, who filled the President of Surgical Robotics role barely a year ago.
Regarding the shift, Medtronic released a statement describing how combining these businesses will help capitalize on the $4.4 billion [global] surgical robots market. Specifically, they aim to get out in front of that market, which is forecast to grow at least 18% by 2030. The most exceptional thing about this is that Medtronic is currently the only company poised to capitalize on this opportunity. And should that particular market grow as the company anticipates, it could be a genuine windfall for them. 
Partnership with Nvidia
Medtronic also has an impressive artificial intelligence model that can detect precancerous tissues with remarkable accuracy. The GI Genius intelligent endoscopy module improves the detection of colorectal polyps regardless of size, shape, or morphology at a sensitivity rate of 99.7% and a margin of error of less than 1%. 
This is just the beginning of Medtronic's plan for AI tool development, as they have also recently announced a partnership with Nvidia. This collaboration aims to develop a whole suite of AI diagnostics tools. Primarily, Medtronic will integrate Nvidia's Holoscan computing platform and IGX hardware with its GI Genius tool.  Effectively, this build will help Medtronic's GI Genius more accurately and reliably detect colorectal adenomas and polyps during a colonoscopy in real-time, improving discovery by as much as 50%. 
The Signs Suggest Encouraging Growth
While there is no way to concretely know how these moves will improve stock value, cutting costs and improving efficacy tend to make a company more profitable. This typically results in better investor payouts. In terms of dividends, for example, MDT remains on track to continue its 46-year track of dividend increases, outpacing the industry by 300%. Currently, MDT is paying a $2.72 annual at a 3.42% dividend rate and a 7.99% annualized 3-year growth rate. 
The dividend yield has been on a quarterly incline since early 2021 after hovering around 1.98%. That upward trend piqued at 3.50% on Jan 13 of that year. Still, the recent dip is only slight and may be short-lived. 
The major issue to observe is the 89.74% dividend payout ratio. Anything above 75% is generally considered less favorable because high payouts are typically less sustainable. At the same time, analysts anticipate MDT could have a dividend payout ratio of around 51% next year, which has better long-term potential. 
A reliable dividend certainly makes this stock worth watching, especially if the payout ratio does settle at a more sustainable metric.