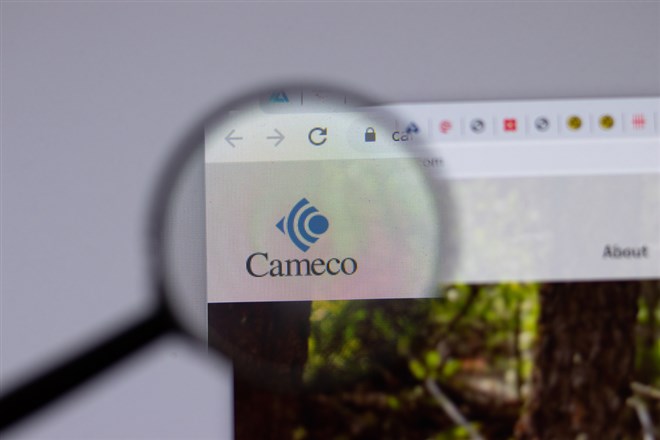 Nuclear energy is the original clean, carbon-free energy. The rare instances of fallout have caused it to gain a negative connotation. As the world migrates towards carbon-free, clean and renewable energy, nuclear energy garners more attention and demand. The fuel for creating nuclear energy comes from uranium. There are many speculative stocks when it comes to uranium production.
Many, if not most of them, have yet to go into total production and are still in exploration, discovery, construction, or the long-drawn-out complex regulatory processes like Energy Fuels Inc. (NASDAQ: UUUU), Uranium Energy Corp. (NYSE: UEC), and Dennison Mines Co. (NYSE: DNN).
The Real Deal Uranium Pure Play
Those investors who want to cut to the chase and invest in a pure-play actual uranium-producing company can rest assured watching one name. Canada-based Cameco Corporation (NYSE: CCJ) is the leading uranium producer, already producing millions of pounds of uranium annually. Its CEO stated, "Nuclear is the only low-carbon source producing low-carbon heat which can be used to produce clean hydrogen and freshwater.
Demand for nuclear means demands uranium when supply is dwindling." In 2022, Cameco closed contracts for over 80 million pounds of uranium and 17 million kgU conversion services. The company resumed production post-pandemic at tits McArthur River/Key Lake to return to tier-1 run rate.
Top and Bottom Line Earnings Beat
On Feb. 9, 2023, Cameco released its fourth-quarter 2022 earnings ending in December. The company reported earnings of CC$0.09 per share, excluding non-recurring items, versus consensus analyst expectations for a profit of CC$0.04, a CC$0.05 beat. Revenues rose 12.7% year-over-year (YoY) to CC$ 524 million versus CC$ 446.26 million single analyst expectations.
Upbeat CEO Comments
Cameco CEO Tim Gitzel commented, "Demand for nuclear power, supported by growth across the near, medium and long term, is driving the best fundamentals we have ever seen for the nuclear fuel market. The growing structural gap has led to supply uncertainty amplified in 2022." He also noted that the geopolitical events causing security of supply concerns coupled with accelerating focus on the climate crisis had spawned transformative tailwinds for the nuclear power industry.
Unrest in Kazakhstan caused security concerns for 40% of the world's uranium produced there. The Russia-Ukraine war also impacted uranium prices as Russia supplies 14% of the world's uranium concentrates. It underscores the supply risk that entails uranium.
Record Number of Contracts
Gitzel noted that the company closed contracts totaling 80 million pounds of uranium in 2022. Tailwind opportunities have enabled Cameco to sign a record number of contracts. Its annual shares of tier-one supply could grow to 32 million pounds after the Macarthur River/Key Lake production of 18 million pounds commences in 2024.
The company will continue to run Cigar Lake, which has a licensed capacity of 18 million pounds while reducing Inkai production by (20%). It's also worth noting that Cameco upped its ownership of Cigar Lake to 54.5% from 50%. Furthermore, Macarthur River/Key Lake is licensed for 25 million pounds of capacity, but expanding production is subjective to uranium prices and long-term contracts.
Weekly Symmetrical Triangle
The candlestick chart for CCJ depicts a weekly symmetrical triangle pattern. This pattern comprises lower highs and higher lows with diagonal trendlines that eventually meet at an apex point in the future. The underlying stock typically ping-pongs between the tightening trendlines until it a breakout or breakdown forms through the upper trendline or lower trendline, respectively. The closer prices get to the apex, the higher the chance of a break.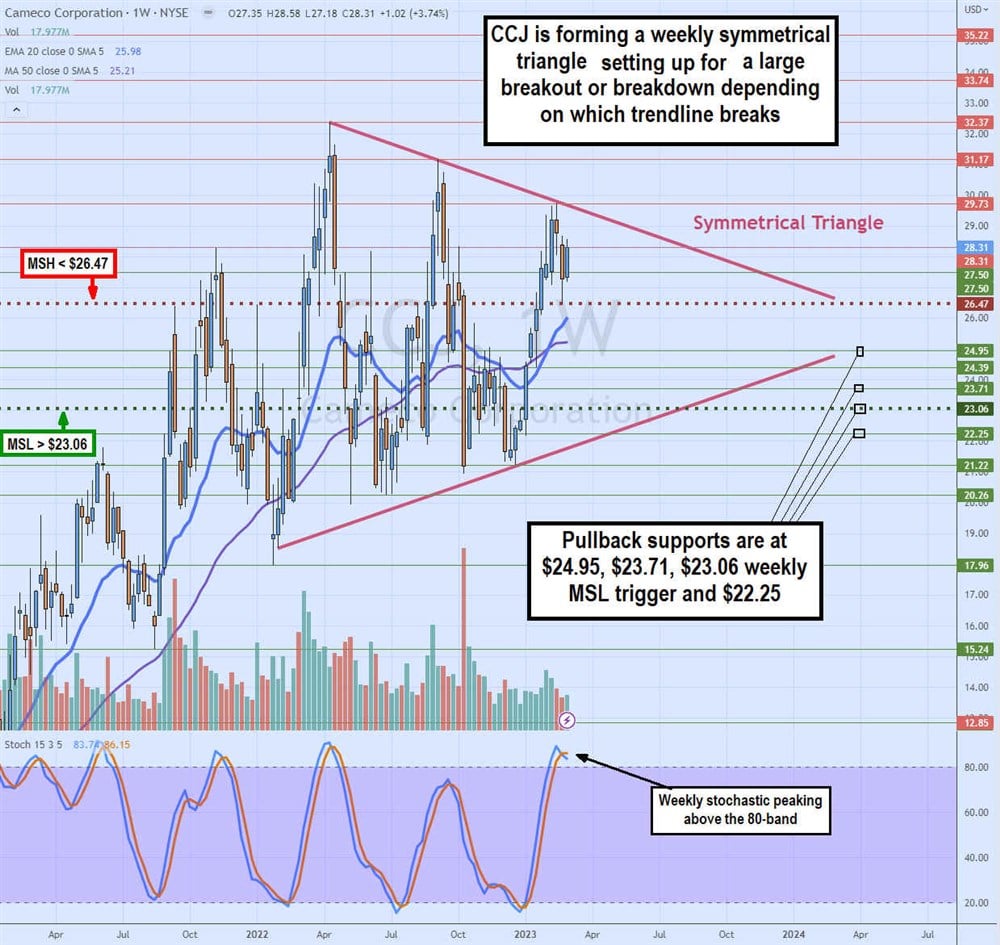 The most recent bounce triggered the weekly market structure low (MSL) breakout through $23.06 as it peaked at the upper falling trendline at $29.73, forming a weekly market structure high (MSH) trigger under $26.47. The weekly exponential 20-period moving average (EMA) rises to $25.98, followed by the 50-period MA at $25.21.
However, these have been choppy with no consistent trend. The weekly stochastic is starting to cross back down again above the 80-band. Pullback support levels are $24.95, $23.71, $23.06 weekly MSL trigger, and $22.25.