February 24, 2023, 9 am – 5 pm Est; At the Union Theological Seminary Of New York, 3041 Broadway, New York, NY, 10027.

NEW YORK - Feb. 22, 2023 - PRLog -- In partnership with Union Theological Seminary's Center for Community Engagement & Social Justice (CCESJ), Pride in the Pews will gather Black faith leaders, churchgoers, activists, and academics to enumerate practical tools, strategies, and frameworks to bridge the gapping gap between the Black Church and LGBTQ+ Community.

Over 850,000 Black LGBTQ+ people identify as religious. Yet, out of the eight historically Black Christian denominations, none (ZERO) of them are LGBTQ+ affirming.

"We advocate for change within the Black Church for the Black Queer community," says Rev. Karmen Michael Smith, Executive Director of CCESJ and author of Holy Queer: The Coming Out of Christ.

WHO: Rev. Karmen Michael Smith, Rev. Don Abram, Rev. Naomi Washington-Leapheart, Very Rev. Kelly Brown Douglas, Rev. Fred Davie, Rev. Dr. Brianna K. Parker, Rev. Carmarion Anderson-Harvey, Bishop Keith McQueen, Pastor Kristian Smith, Kim Daily, Pastor William Anthony Ellis Jr., Rev. Quincy James Rineheart, Ph.D. Candidate, Rev. Stephen J. Thurston III, Rev. Dr. Timothy Adkins-Jones, Bishop Clarence Laney, and Rev. Dr. Jacqui Lewis. More about the speakers here

WHAT: The State of The Black Church: Reconciling Communities and Reimagining Inclusion Symposium

Panel discussions will include the Public Square public policy, legislation, movement-building, pastoral leadership, congressional relations, and advocacy with an emphasis on truth-telling and courageous conversations.  Download Event Agenda

WHEN: Friday, February 24, 2023, | 09:00 am – 05:00 pm est.
Virtual & Livestream YouTube Access: Please send request with Media RSVP

WHERE: Union Theological Seminary Of New York, 3041 Broadway, New York, NY, 10027.

MORE INFO: Visit https://www.prideinthepews.com | Download Event Agenda

Media Contact: Amore Philip | AOPR | 929-229-5512 | pr [@] aoprllc.com

Panelists will be available for interviews and commentaries.

ABOUT CCESJ: Building on Union Theological Seminary's nearly 200-year social justice legacy, the CCESJ is a hub to nurture and equip next-generation leaders and to support bold initiatives that reimagine the work of justice. For more information, please visit https://www.ccesjunion.org/.

Follow @prideinthepews  @CCEESJUnion (https://www.instagram.com/ccesjunion/)  @Karmenstagram (https://www.instagram.com/karmenstagram/)

https://www.instagram.com/reel/Co57nL5gbUf/?utm_source=ig_web_copy_link



Contact

Center for Community Engagement & Social Justice

***@aoprllc.com

2128201516


Photos: (Click photo to enlarge)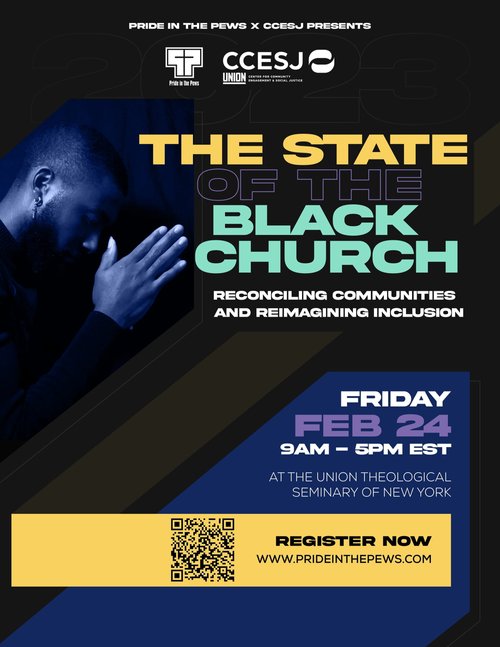 Read Full Story - Center for Community Engagement & Social Justice and Pride In The Pews to Host State of The Black Church: Reconciling Communities Symposium Event | More news from this source

Press release distribution by PRLog